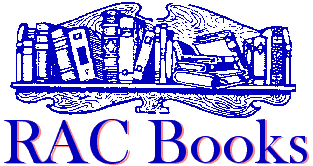 We have over 1000 titles available for purchase, with more being added.
Please let us know of any titles, authors or categories you are seeking. We'll check our off-line stock for you. Watch for changes and updates daily.
Visit us on Facebook, too.
Welcome to the home of RAC Books. Please search or browse our inventory of hard to find, out of print, used, and rare books. If you can't find what you like please fill out our off-line search form and we will search our off-line inventory, other bookstores and book search services for you.